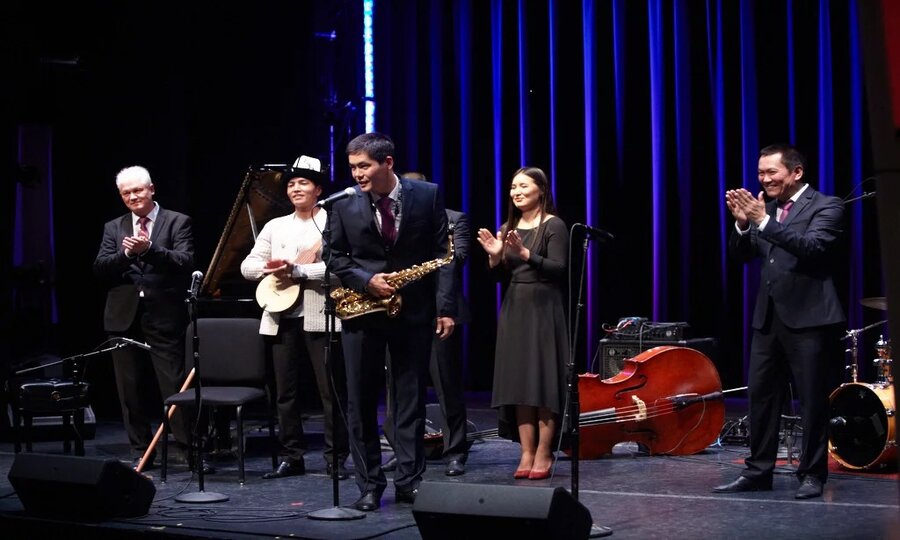 Tremendous Jazz Band!
Salt Peanuts jazz band (named after the Dizzy Gillespie tune) was founded by Bakyt Kydykbaev (drums, leader) in 2002. Later on his two sons, Kuban (alto saxophone) and Erkin (double bass), joined the band.
The jazz band alternate classics by Miles Davis, Charlie Parker and Dizzy Gillespie with their own compositions, which incorporate different Kyrgyz traditional instruments and parts from The Kyrgyz Epic Manas. Their style is the result of Bakyt Kydykbayev's years of experimentation with new forms of musical expression, based on the 'aitysh', traditional Kyrgyz art of improvisation.
Salt Peanuts jazz band have performed in the prestigious halls of the international jazz music scene, including Millennium Stage at the Kennedy Centre (Washington), Birdland Concert Hall (New-York), Woodrow Wilson International Centre Hall (Washington), Igor Butman's Jazz Club "Na Taganke" (Moscow), among others.
Their level of jazz musicianship is remarkable considering the lack of access to information about jazz music and culture prior to the collapse of the Soviet Union.
Salt Peanuts is one of the competent and known jazz bands in Central Asia and CIS.
Equally amazing in Classical Bi-Bop, Pop Hits, Latin, Jazz-Rock, Jazz-Epic, Jazz-Dance, Ethnic-Jazz  Salt Peanuts have been widely acclaimed by the audiences.
Slide
Slide
Slide
Slide
Performance Art
Performance Art projects may be created by Salt Peanuts for art exhibitions, theatre.
Slide
Slide